Bexphoto Review Of The Year 2022
Well, 2022 was quite the year.
Horrible world events and crazy politics aside, there has been a lot of good stuff to celebrate. Business-wise, it's been a full and fulfilling one with many ambitions ticked off the bucket list!
I started off 2023 slowly, still full or germs and trying to avoid overwhelm. Now I have some energy back, I'm raring to go, writing lots behind the scenes and have some budding plans already.
It all starts with reflecting before thinking about my goals for this year. My review of the year is all about the things I was proud to achieve in 2022.
Let's start at the beginning...
Published in Click Magazine
I had a tip about facing fear and beating imposter syndrome published in the Winter 2022 edition of Click Magazine alongside one of my brand images of the Mum's The Word ladies.
I'm excited to announce that Sunday Shout Outs are here to stay! I love connecting and giving back to the community in these tough times with a free mini shoot and a shout-out on social media. If you're interested, you can apply here, there's no catch I promise!
New Job in Crowborough
In April I started my new "day job" at Durban Dental Centre, and I'm happy to say I love it there! It's always a risk moving to a new practice, as you never quite know what it's really like to work there until you start. I can't even express how great the team is and how my life has changed since starting.
I was so close to giving up dentistry altogether, the stress was immense and the last 5 years working in the NHS had been slowly destroying my soul with targets and unrealistic expectations. Although I still do some NHS work, the balance is much more manageable and I'm actually enjoying being a dentist again for 2 days a week.
We published the 5th edition of This Detailed Life magazine, themed Elements. What an epic issue, we had everything from Fire, Water, Earth and Air as well as Spirit to really show off some creativity and amazing photographic skills by our talented community!
Redesigned my website
I made the decision to focus solely on branding and hid all of my family work, so my website shows me as a true expert in brand photography.
Uckfield Business Brunch Club
I started a brunch club for women in business to network and connect in and around Uckfield. We have monthly meetings, it's been a great success so far! If you fancy joining us, you can find out more here.
Chicago for ClickAway
This was my first Click conference and what a city! I loved Chicago! Such an interesting place to explore, great food (Lou Malnati's Pizza FTW!) and of course amazing company, it was amazing getting to meet so many awesome photographers I've only ever known through my phone!
I had a lot of fun photographing this charity event with Davina McCall for my local Rugby club. There were selfies galore before all the cyclists headed out on the ride. Of course I got a quick one of my own before Davina herself left too :)
Family Holiday to Tenerife
Yet again, we booked a rather last minute summer holiday with the twins (I don't know why we do this as we have to book our annual leave well in advance - 8 weeks or more for hubby). Anyway, we lucked out again with what was initially our 2nd choice of resort. H10 Sunset Atlantic in Tenerife was perfect for us, beautifully maintained and great food options, the twins loved it as much as we did with the kids' club in the evenings and learned to swim without their armbands for the first time.
I Won 2nd place in H10 Hotels' Photography & Videography Competition
What a thrill to win another trip to H10 hotels after our amazing holiday in Tenerife! I entered a few images in this contest but this one below of Kalyan and his new holiday friend won 2nd place - 2 nights for 2 in a City hotel!
New Logo
It was time for a little re-brand for Bexphoto after the changes to my business. I love my hand-painted logo I created a few years ago but since my business has changed, I felt I needed a more refined, easier to read logo that was still fun. Of course it still needed to have plenty of colour with an obvious rainbow theme that would work on both light and dark backgrounds. I also wanted a little nod to the camera angle whilst still being unique to me.
I'm delighted with the logo Claire at Be Brave Branding created for me, including the rainbow aperture which I've already been able to adapt to different uses like turning it into baubles for my client Christmas cards this year as well as using it for my Highlight covers on Instagram to keep my branding consistent.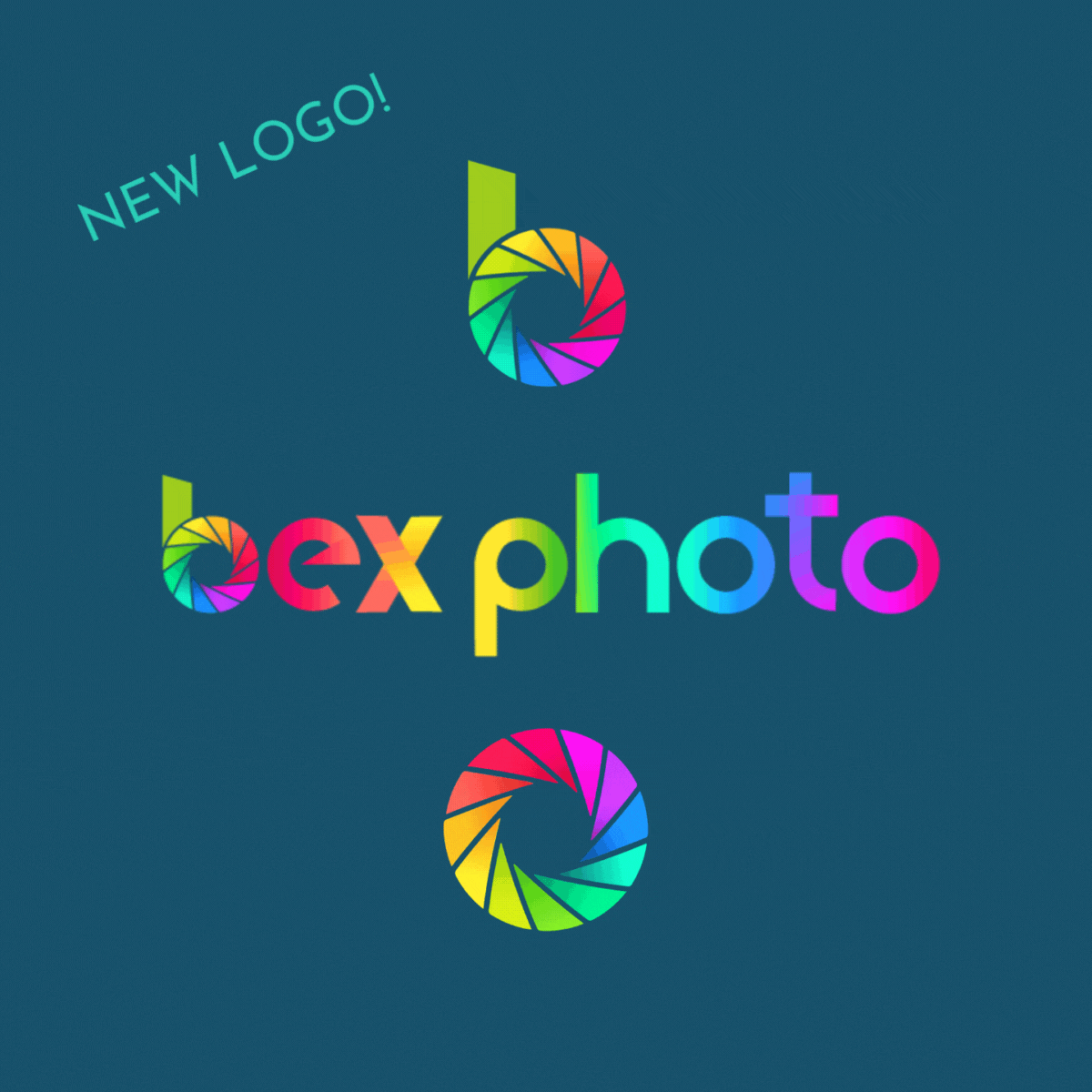 Bexphoto went on tour to Scotland
I flew up to Scotland for a few brand shoots in Glasgow and had an amazing time! I stayed with my old bridesmaid Sarah who booked me, squeezed in a couple more shoots and spent lots of fun time with her and my friend Roz too. They both helped me out by filming me in action for my upcoming Click Photo School branding course for photographers (see below).
I had my own brand shoot!
I was delighted to do a shoot swap with the amazing Rebecca Holmes so we each got photos of us in action taking turns to take photos of Sarah and Roz as well as some new headshots.
PhotoVogue
I had another image accepted on the PhotoVogue website. This one was taken during the brand shoot for my good friend Sarah up in Irvine, Scotland.
This is the first time I've been nominated for a business award so to be Highly Commended in TWO categories was amazing!
I thoroughly enjoyed the evening at East Sussex National Hotel! Big thanks to my lovely photography buddy Kirsty for being my date since hubby was away (she also took this gorgeous photo of me outside our room) and to my amazing client Jane and her husband who won my giveaway of 2 tickets to celebrate with us!
We took the twins to Disneyland! Something we'd been planning since they were 4 but had never managed for one reason or another. We had an amazing time, learned lots and were exhausted by the end! I shared my top Disneyland tips here if you're planning your own trip.
Highly Commended Award - The Voice Collection
I was thrilled to receive another Highly Commended award in The Voice Collection again this year thanks to Click Magazine and Click Pro.
I participated for the first time in the fabulous Festival of Trees and Holy Cross Church in Uckfield. An absolute joy to visit each year, I loved decorating my own tree, featuring the faces of my lovely clients among the 106 trees!
I made the decorations myself, printing the photos and a few of my logos, punching them out, laminating and setting in resin bauble moulds. My Twinkly lights set to rainbow glitter finished it off perfectly with my branding, I took this photo using my prism to get the extra sparkle.
What a complete surprise it was to be asked to write & present a course about brand photography for Click Photo School!
Best Brand Award
I was thrilled to be voted Best Brand by my colleagues in Gillian Devine's Brand Photography club! Gill sent me this beautiful gift.
I love that my brand is so recognisable and well-liked. I know it's working as I often get compliments about it and messages sending me links to amazing rainbow stuff (dangerous for the bank balance)! Here's what my fab colleagues said about my brand:
"Really colourful, vibrant, inspirational, so much clarity, a really clear message about who she is and what she does."
"She obviously puts a lot of love and energy into her brand and it really shows."
"I love Bex's brand, it's so colourful, I'm really inspired by it."
"I love her colours and the website looks great."
Awesome Clients
And of course, thank you to all of my lovely branding clients, plus the lovely Miss Shaw, the twins' old reception teacher, who I made an exception for with a newborn shoot! It was such an honour to capture her beautiful baby in Brighton this November! I've loved every single shoot, doing what I love and helping all of these businesses to be more visible with exceptional brand photos.
Planting Trees
I planted 1380 trees and funded two wind-power projects with Ecologi. Every client who books my Spectrum or Kaleidoscope package, receives 100 trees in my forest in their name.
Rainbow Afternoon Tea Birthday Party
I rounded out the year with my very special rainbow tea party for my 41st birthday! Yep, even my birthday party was on brand and I loved it! :D
I've started writing out some goals for 2023 so watch out for that on the blog soon if you're interested, it's such a great way to hold myself accountable and add a little inspiration to the new year ;)